FACTS
Official Title:
Argh! Earthlings!
Genre:
Point & Click Adventure Game
Developer:
Damian Thater
Country:
Germany
Studio:
none
Publisher:
none, independant
Localization:
English, German
Official Release Date:
September, 12th, 2017
Platforms:
iPhone and iPad running iOS 8.4+
Android (in Development)
Regular Price:
Premium: US$2.99 (~3.49€), no ads, no IAP
Development Duration:
8 Years
Estimated Gameplay:
about 1 hour
CONTACT
DOWNLOAD
SYNOPSIS
In "Argh! Earthlings!" you play David, a young, slightly left-handed hobby astronomer, who one day accidentally shots down an alien spacecraft using his self-made model rocket. At the same moment the UFO hits the ground, David gets knocked out by his own rocket. He wakes up in a foreign bed, so he needs to find out what happend to him. He discovers the secret of the little farm and its residents and helps a really upset alien named "Fred" to escape from earth. While David is busy to recompense the damage, special agents are lurking everywhere, so David must also be careful not to become caught...
"Argh! Earthlings!" is a humorous, old-school point & click adventure game exclusive for iOS. The player explores the surroundings of over 50 hand-drawn and digitalized game scenes, collects up to 40 items and interacts with up to 20 characters. The self-made adventure engine is optimized for mobile devices such iPhone and iPad and enables navigation by using just a single finger tap.
KEY FEATURES
Humorous, old-school point & click adventure game
Optimized for mobile devices
Simple one-finger navigation
Automatic game saving
Multiple savegames at one
Adjustable game speed
Minimum 1 hour of gameplay (in default game speed)
Multiple solution possibilities in some situations
50 hand-drawn and digitalized game scenes
20 characters
40 items to collect and use
3300 lines of text
Battery and CPU efficient gaming engine
MEDIA
AppIcon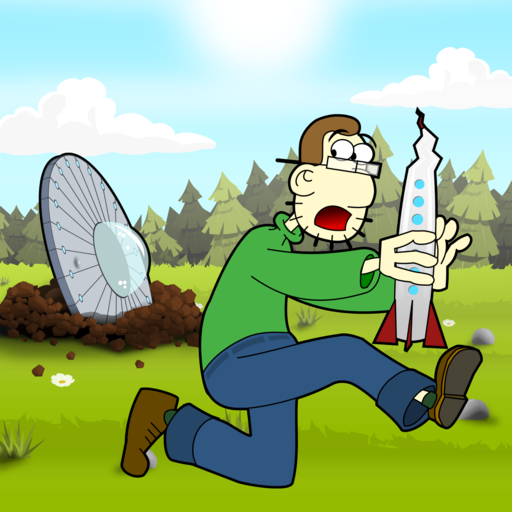 White Logo

Black Logo

Key Visual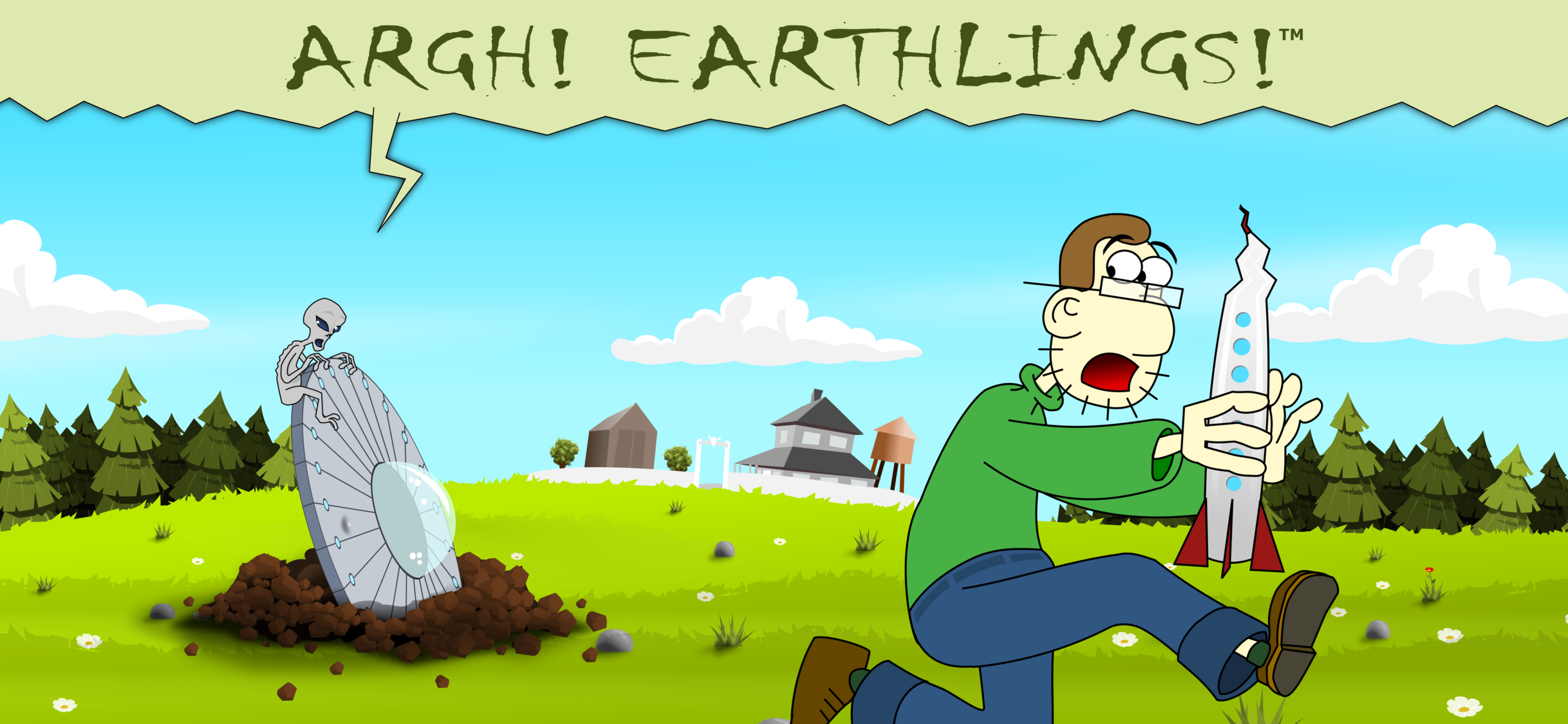 Screenshots v1.0
For even more material download the compressed archive: ArghEarthlings_press_kit_2017.zip (12.5 MB).
Videos
Trailer: https://youtu.be/kiL7EW_Z4js
ABOUT THE DEVELOPER
Hi, I'm Damian Thater from Germany.

I was doing software development since I was 13 years old. It all begun with a C64 and Basic, continued with Pascal and Delphi on a PC, and finally ended in Java... Obviously I committed to coding. But the last 8 years I was busy working on Argh! Earthlings!, mainly because I wanted to learn another programming language: Objective-C for iOS. I like the idea of a market for self-made apps of every person interested in coding. Everyone can publish his thoughts in days, weeks or years just coding independently at home. It's so comfortable and easy. So, while I was learning this programming language more and more over the years, slowly a nice adventure game engine has evolved. Today I'm happy being able to code such a complicated piece of software like Argh! Earthlings! based on the knowledge I gathered so far.

My next project will include Android programming. So, I'll want to evolve another time and never stop doing this. Hey, I can't hardly wait to enter the Android market with Argh! Earthlings! for Android!

Stay tuned!
---
Apple, the Apple logo, Apple Watch, iPhone, iPod touch and iPad are trademarks of Apple Inc., registered in the U.S. and other countries. App Store is a service mark of Apple Inc., registered in the U.S. and other countries.
---